Ancient Secrets That Can Change Your Life!
Step 1:
Purchase your book(s) now here
Step 2:
After you have purchased the book from any means (or received it as a gift), enter your receipt number or indicate gift receipt here for your Bonus Gifts
When you get your book(s) through this website – automatically a larger portion of the sale goes to the orphan kids in Nepal and Tibet. When you purchase many books as gifts for your friends, family, your employees, your church group, your book club, your neighbors, or for anyone you know, you are making this world a better place by spreading the gift of love, light, and healing.
You can receive your additional THANK YOU gifts when you enter your information above. 
You can also help SPONSOR the purchase of books for orphanages, prisons, schools, libraries, etc. 
If you want, you can also be a part of the TRANSLATION MIRACLE of this book, supported by volunteers, with love, into nearly 30 languages. 
GREAT NEWS: The book is Now Available as an Audiobook in English and Audiobook in Italian!
MORE GREAT NEWS: Translation is Now completed in SPANISH, FRENCH, DUTCH, ITALIAN, FARSI, ROMANIAN, GUJARATI,  Portugal PORTUGUESE, & Brazilian PORTUGUESE!
Coming out soon in: Spanish, German, Japanese, Hindi, Russian, Arabic, Odia, Turkish, and more…
Our purpose is to help as many people as possible know this ancient healing system exists. Thank you for joining in this mission.
You also now have the ability to apply to join a new *100 Day Training Course* designed by Dr. Clint and other healers, known as "Vaidyas", trained by Dr. Naram! Click Here to learn more about this exciting opportunity.
You can also discover how to become an Ambassador of the Ancient Secrets Foundation.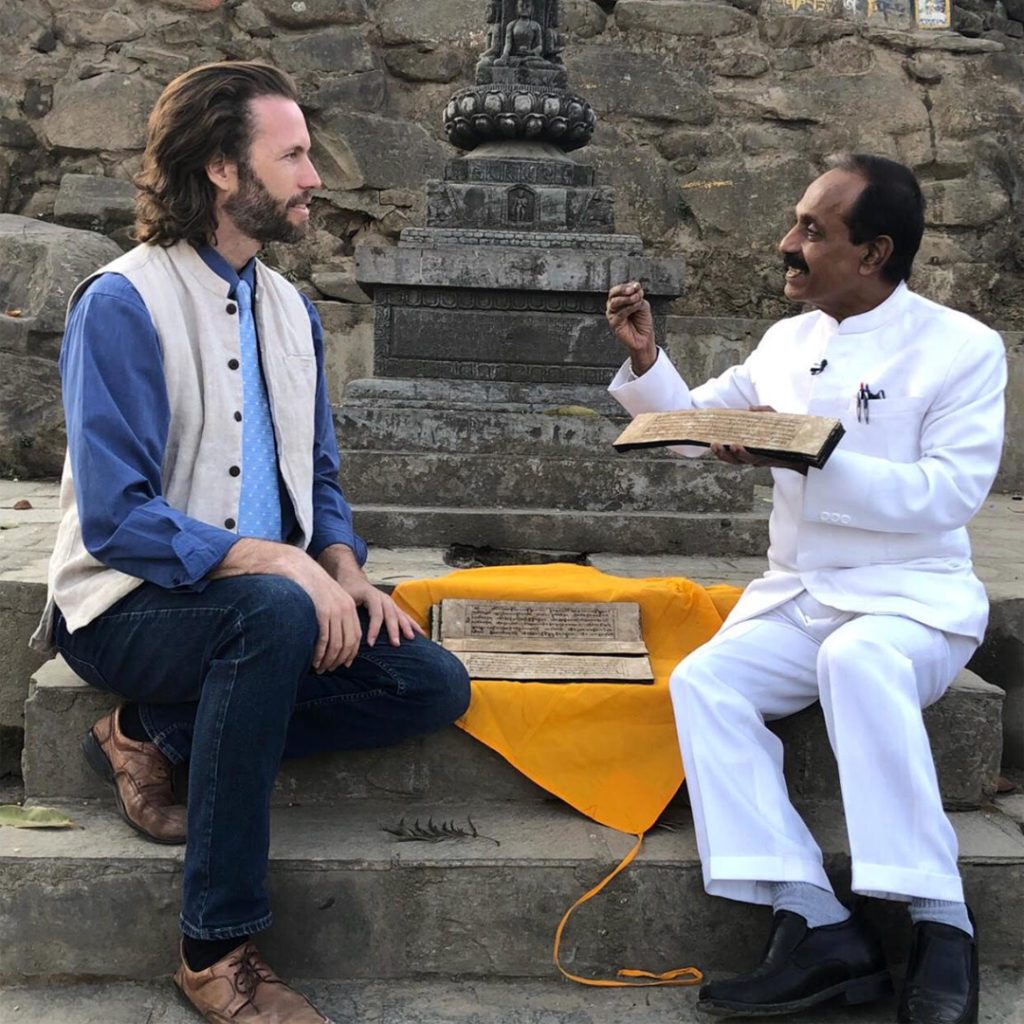 Have you ever been guided by love to see things in a new way?
This book is about being guided by love, but it is not your typical love story. It was love for my father that drove me, a university researcher and a skeptic, to go beyond what I thought was logical in an attempt to save his life.
Has the power of love ever propelled you to do things you previously thought were impossible?
I was led to a Master Healer, and an ancient unbroken lineage, practicing healing secrets not commonly known in the rest of the world. As a skeptic, and with my father's life on the line, I challenged everything I heard and saw.
This book contains many of the tried and tested secrets I discovered on the journey. They could save the life of someone you love, and they can change your life forever like they changed mine.
A NEW BREAKTHROUGH BOOK ON ANCIENT HEALING SECRETS OF INDIA, ENDORSED BY TOP DOCTORS, ATHLETES, BUSINESS LEADERS, CELEBRITIES, AND BLESSED BY SPIRITUAL LEADERS FROM AROUND THE WORLD
A skeptical university researcher from the USA travels to the Himalayas and uncovers secrets from an ancient healing lineage that began with Lord Buddha's physician.
Ancient Secrets of a Master Healer
The secrets you'll discover in this book can change your life forever. For example, You can discover:
- are there ancient secrets for...
How you can instantly reduce anxiety and release stress?

How to lose your weight in a healthy way and keep it off?

How to boost your immune system with things in your own home?

How to increase your energy by 10%-150%?

How people can have a fantastic sex life, even into their 80s?

How can you activate an ancient secret to your own fountain of youth?

How can a woman after 50+ and in menopause still have a baby?

How can you reduce your blood pressure to normal in minutes?

How can you ease arthritis & joint pain with food?

How can you utilize a secret process to discover your life's purpose, and get whatever you want?

How can you press certain points on your body to improve your memory & focus?

Is there a breakthrough secret diet for living to 100+ years with vibrant health?
You Can BE the First to Share These Secrets With Those You Love
Dr. Clint G. Rogers and Master Healer Dr. Naram
For thousands of years, the greatest healers in the Himalayas have been refining a potent healing science for the treatment of physical ailments, psychological disorders, and spiritual challenges. The most effective natural healing methods were recorded on ancient scrolls and have never been available to a wider audience before.
Now, in this breakthrough, real-life account, healing secrets are revealed by the author's encounters with master healer, Dr. Naram. The reader-friendly narrative style of the book captures you from the beginning chapter and takes you on an eye-opening and enjoyable discovery of timeless wisdom and time-tested natural ancient secrets that can provide help and healing on deeper levels than most people ever imagined were possible.
The secrets revealed in this book can help raise anyone from where you are today to a higher level of where you want to be physically, mentally, emotionally, and spiritually. Using these proven ancient secrets will help the reader map out a clear path to vibrant health, unlimited happiness, and peace of mind.
And You Can Join the "Book Launch Dream Team," becoming part of an amazing team helping spread this healing message.
PRAISE AND BLESSINGS FOR THE BOOK: ANCIENT SECRETS OF A MASTER HEALER
TEDx talk by Dr. Clint G. Rogers
- viewed by millions
And You Can Join the "Book Launch Dream Team," becoming part of an amazing team helping spread this healing message.