PRAISE AND BLESSINGS FOR THE BOOK: ANCIENT SECRETS OF A MASTER HEALER
Jack Canfield (co-author of 'Chicken Soup for the Soul' and 'Success Principles')
Jack Canfield (co-author of 'Chicken Soup for the Soul' and 'Success Principles')
Foster Gamble (co-creator of Thrive Movies and Movement)
This book "Ancient Secrets of a Master Healer" is a masterpiece of great, clear writing, with touching vulnerability, and contains vital information as important as any on planet Earth.
I stayed up until 3am reading it because I found it so compelling. I was deeply moved, inspired and educated by the whole book.
The fact that Dr. Clint G. Rogers was pulled into Dr. Naram's life at exactly the time he was, and studied in so much depth for the last 10 years to document this ancient wisdom, is remarkable. And on top of that to now be bringing out such an important message of natural healing, when humanity needs it most, is nothing short of a miracle.
I've studied healers for 20 years, and Dr. Naram ranks among the very best, if not the top, because of how he heals to the core by using all natural methods.
Many times a day I feel sadness about humanity's losing him at this time, and then such gratitude for Clint's friendship and apprenticeship with him at exactly the right time.
This book captures elegantly and powerfully the light and wisdom of Dr. Naram and his ancient secrets in a way that can touch your heart and change your life.
I'm excited to help spread it as far and wide as possible because of how I know it can change humanity, and life on Earth as we know it.
~ Foster Gamble, Co-creator, THRIVE movies and Movement
FOSTER GAMBLE (CO-CREATOR OF THRIVE MOVIES AND MOVEMENT)

MARCI SCHIMOFF (CO-AUTHOR OF "CHICKEN SOUP FOR THE SOUL" AND THE #1 NEW YORK TIMES BESTSELLER "HAPPY FOR NOW REASON")

JOE SUGARMAN (AUTHOR OF THE BESTSELLING "SUCCESS FORCES" AND LEGENDARY ENTREPRENEUR AND MARKETER)

"I just want to say I have met healers from all over the world, and I've never met anybody who has just captivated me, and has so impressed me as Dr. Naram. I have personally seen him heal people. I've seen him inspire people. I've seen the excitement he brings to any situation. He's just an incredible guy. It's my delight and my pleasure to meet him, to know him, and to be of service to him. I can't begin to tell you how impressed I am with this gentleman.
I have personally witnessed people coming to him… where he'll work on them, where they've had pain for two years, twenty years, it doesn't matter… where they've had pain almost all their life… they come, and he works on them, and in a matter of minutes, they get well, they're healed, they're feeling very good.
It's so gratifying to see that, and it's so gratifying to see how quickly he does it.
Another thing I witnessed that's really amazing is he'll see over 100 people in a matter of hours. He will work on people maybe for a minute, maybe two minutes, and they'll walk away healed. It takes a special skill, and this gentleman has it.
When I heard he passed away I was in great shock. book Some solace came knowing Dr. Clint G Rogers had studied with him intensively for the last ten years and written this book, Ancient Secrets of a Master Healer, which documents this incredible man and his ancient healing secrets. It really is a wonderful thing that Dr. Clint has done. I'm sure through this book a lot Dr. Naram has taught will go on and help countless others. This book is an incredible tribute to an amazing man, and a priceless gift to the world."
~Joe Sugarman (Entrepreneur & Bestselling Author)
DEANNA WON, COLONEL, US AIR FORCE (RET), FDN-P, FOUNDER OF KEYNOTES TO LIFE, & BESTSELLING AUTHOR

GARY MALKIN, MULTIPLE EMMY AWARD-WINNING COMPOSER, PUBLIC SPEAKER, AND MUSIC AND HEALTH INNOVATOR

ANIL NAIK, GROUP CHAIRMAN – LARSEN & TOUBRO

DR. ADITI GOVITRIKAR (MEDICAL DOCTOR, HARVARD TRAINED PSYCHOLOGIST, MRS. WORLD, SUPERMODEL AND ACTRESS)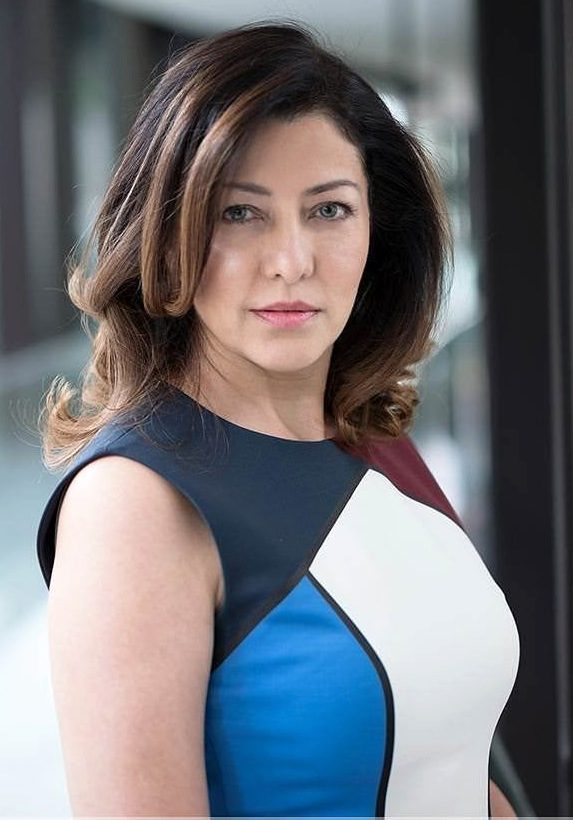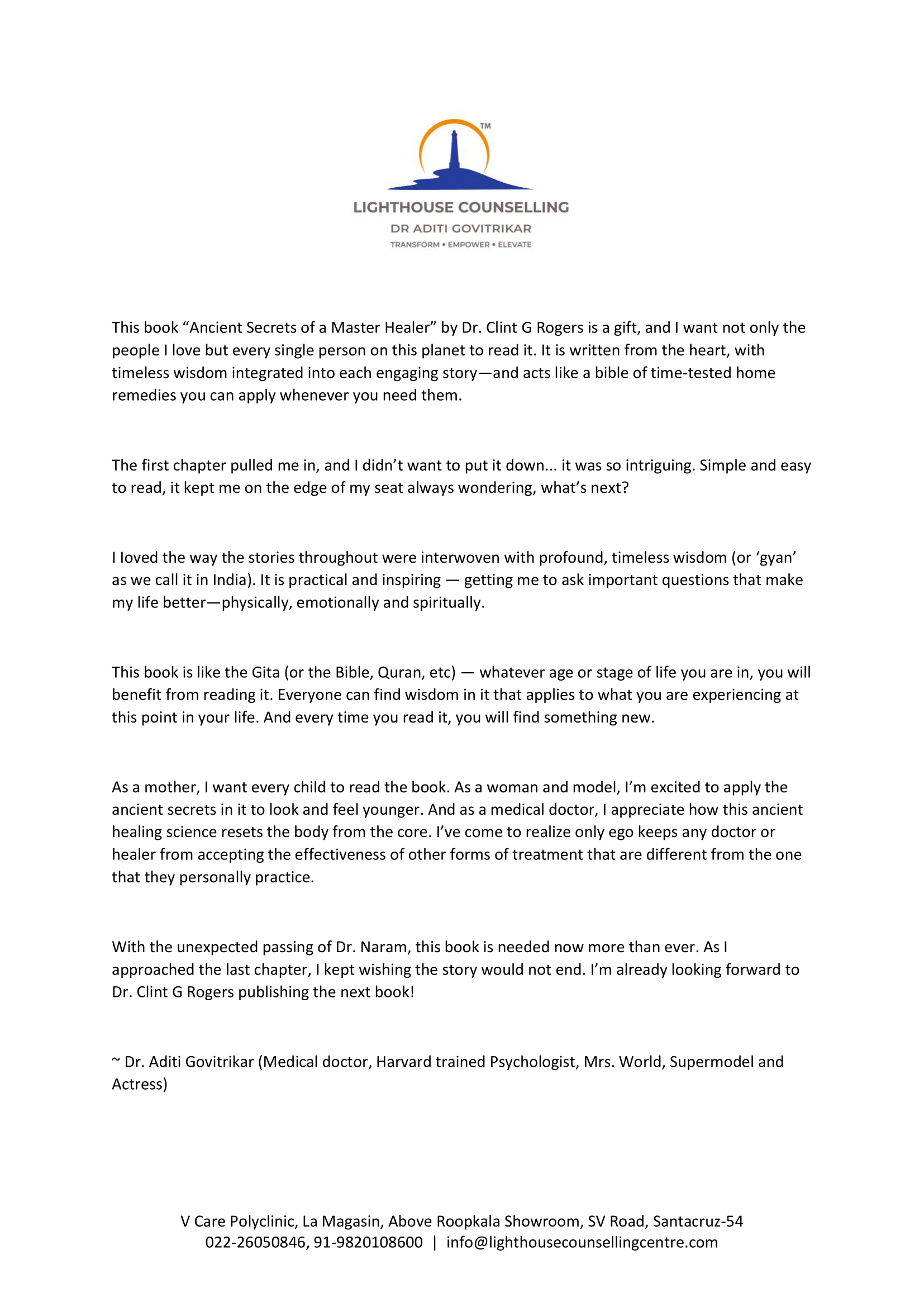 DR. ADITI GOVITRIKAR (MEDICAL DOCTOR, HARVARD TRAINED PSYCHOLOGIST, MRS. WORLD, SUPERMODEL AND ACTRESS)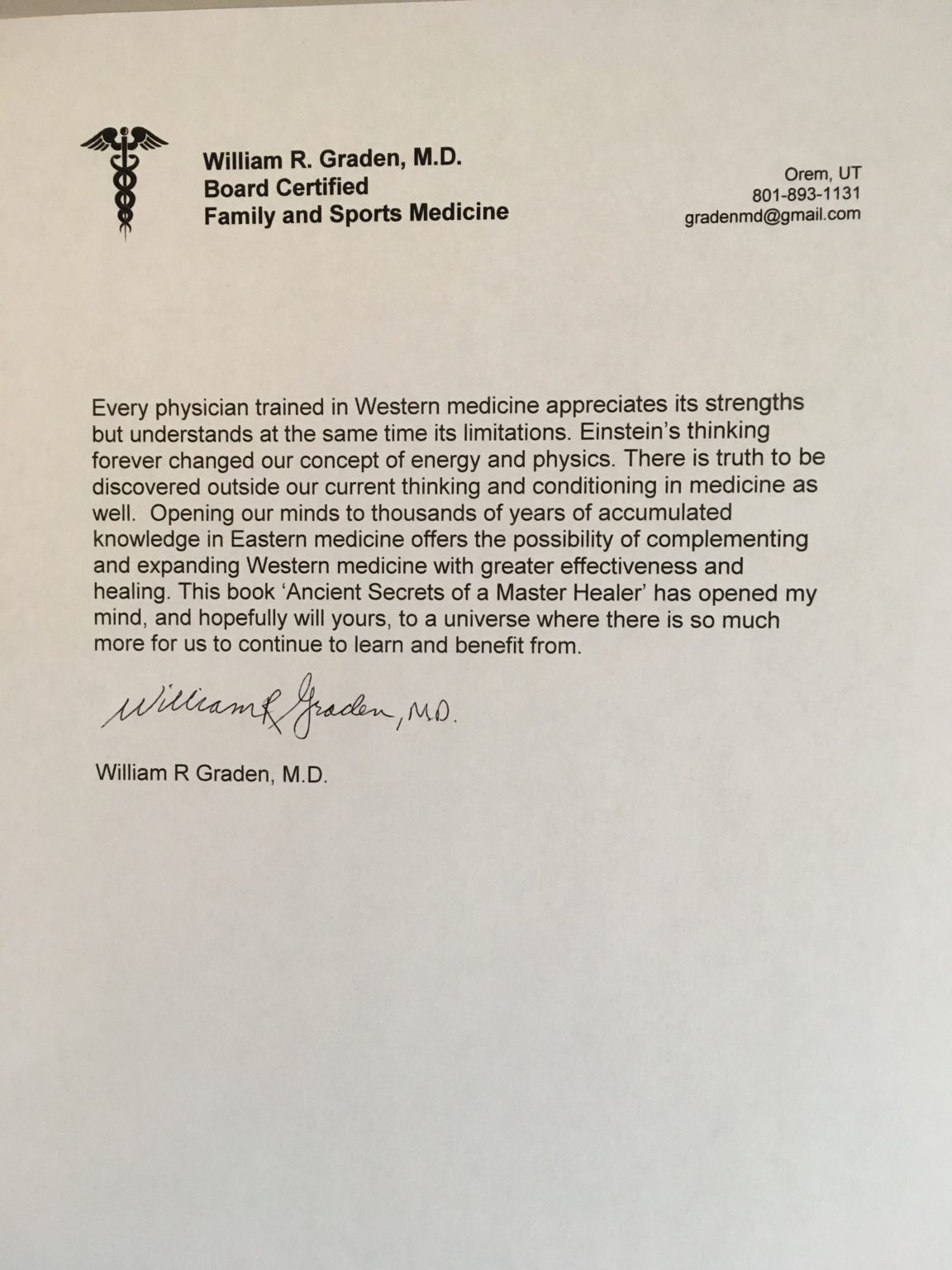 VEN. THUPTEN NGODUP, ORACLE OF H.H. THE 14TH DALAI LAMA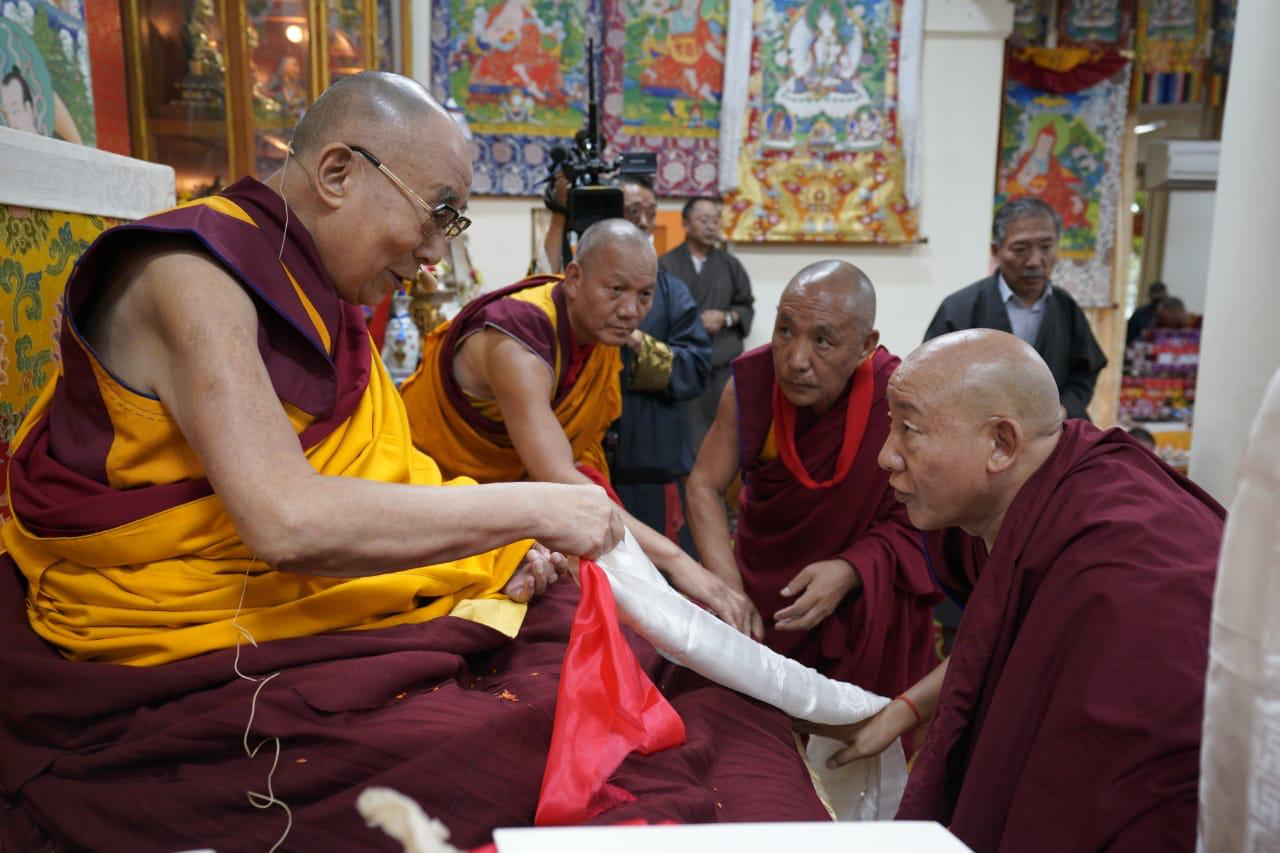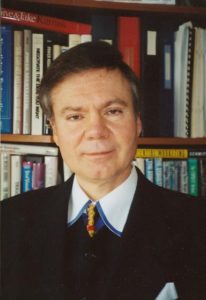 It gives me great pleasure to endorse Dr. Clint Roger's new book on Dr. Naram, ANCIENT SECRETS OF A MASTER HEALER, A Western Skeptic, an Eastern Master, and
Life's Greatest Secrets.
I first learned of Dr. Naram a number of years ago when several of my clients suggested I look into Dr. Naram's work. I have always been interested in all aspects of health including physical, mental and spiritual health. Some of my clients had actually gone to see Dr. Naram and one of my clients, an internationally-famous marketing expert had taken time out of his very busy schedule to travel to India and spend two weeks weeks working on a personal health issue with Dr. Naram.
I had the opportunity to meet Dr. Naram and Dr. Clint Rogers a few years ago and we spent two days together. I was very impressed by what I learned and I began taking some of Dr. Naram's supplements and following some of his dietary recommendations. One of Dr. Naram's recommendations was to eat mung beans for breakfast for high energy and low blood glucose. Up until this day, I continue to have mung beans for breakfast almost everyday unless I am traveling to conduct a seminar or to work with my clients around the United States.
Clint Rogers told me several years ago that he was working on a book on Dr. Naram's healing wisdom and I eagerly looked forward to the book. Clint is a very bright man and I figured that if anyone could distill Dr. Naram's vast knowledge of Ayurvedic medicine and healing techniques, it would be Clint Rogers.
Clint's masterpiece, Ancient Secrets of a Master Healer, is even better than I expected. Beautifully written in narrative form, the book traces Clint Rogers' journey from being a Western skeptic to a true believer. This transformation is based upon Clint Roger's having seen first-hand the tremendous healing powers of Ayurvedic medicine in patients around the world when practiced by one of the greatest healers in the world, Dr. Naram.
Like Clint Rogers, I was trained in Western scientific methods. In my case, I have a Master's Degree in Clinical Psychology and a Ph.D. in Developmental, Personality and Social Psychology. I was trained to do scientific psychological research using a variety of powerful statistical and analytic techniques, including psycholinguistics. I have spent most of my adult life working in Sales and Marketing Psychology to help entrepreneurs and businesses around the world rapidly grow and become more profitable.
Being trained as a Psychologist, I can state that Ancient Secrets of a Master Healer contains much psychological wisdom. I believe that many readers who were initially only looking for advice on treating various physical ailments will find this psychological knowledge to be a delightful and very useful bonus in the book. You will learn through fascinating case studies the many ways that physical health can enhance psychological health and how psychological health can enhance physical health.
Each reader will have their own personal "favorite" chapters in the book. While Clint Roger's masterpiece is probably best read from front to back, it is also possible to enjoy tremendous benefits by reading select chapters that capture your imagination or that address a particular health concern you may be dealing with right now.
Each chapter contains true inspirational stories of people from around the world with very serious and, in many cases, life-threatening illnesses, who have been cured by Dr. Naram. As you read these case studies, you will realize these are not stories about "other people" but are powerful examples of how we can each heal ourselves with the right diet, the proper lifestyle, a healthy mindset and the right guide or healer.
Ancient Secrets of a Maser Healer is a book that you will want to re-read from time to time because select passages will help you deal with and overcome the various physical, mental and spiritual challenges that life brings over the years.
Finally, I want to say that this is a highly enjoyable book to read. You will find yourself smiling frequently as you turn the pages. You'll be amazed and inspired by the people Clint Rogers meets as he travels the world with Dr. Naram to assist Dr. Naram on his healing mission. All of this and the wisdom you acquire from this remarkable book will lead you to a healthier, happier and more optimistic life.
Donald Moine, Ph.D.
Palos Verdes, California
DR. DARLYN DRAGG, NATUROPATHIC DOCTOR SPECIALIZING IN PARKINSON'S DISEASE
"Phenomenal writing! This book will resonate with anyone who has needed to overcome some major trial or struggle. The words spoken in it create a space where you suddenly realize you can get better and be healed physically, mentally, and emotionally.
It's also a story about life, that even if you graduate from college and at first experience some failure, that only means God is leading you to something better.
I fell in love with the master healer, Dr. Naram, depicted in this book, and found extremely helpful the questions he asks.
I'm extremely grateful Dr. Clint G. Rogers wrote this book, to share with more people this type of healing is a choice. And even more than that, I love how these real experiences reveal to the world that this type of lifestyle, when implemented earlier enough, gives you a choice to not get ill in the first place. Most people don't know they have a choice to not even get sick to start with, so I'm excited by how their life will change when they read this book.
From it all, I'm inspired to learn deeply and apply these ancient healing secrets with my own patients and family."
– Dr. Dragg
JOEL FUHRMAN, M.D. – 6 TIMES NY TIMES BESTSELLING AUTHOR & PRESIDENT NUTRITIONAL RESEARCH FOUNDATION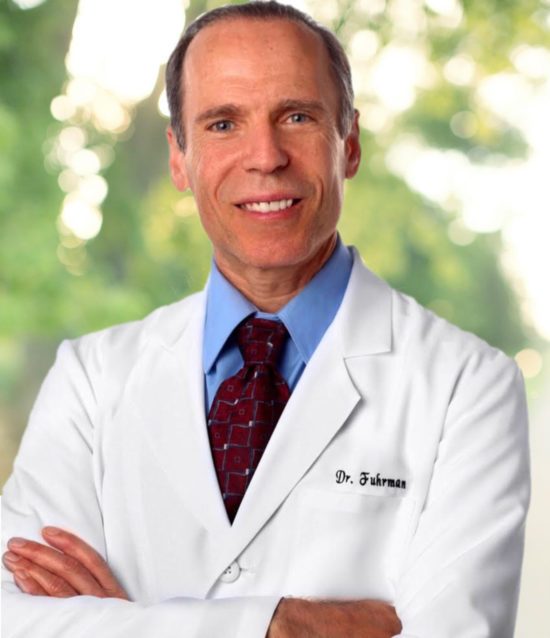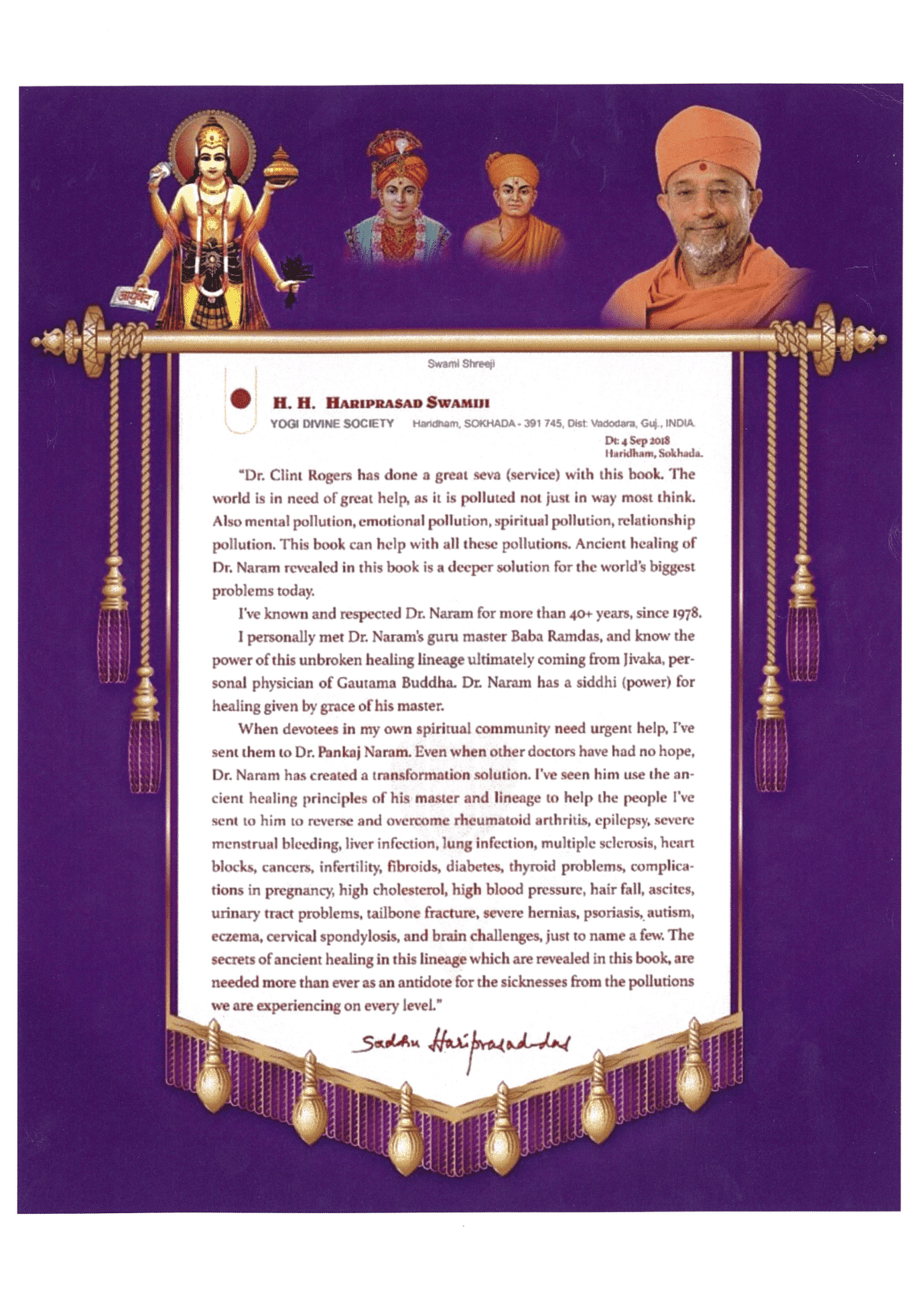 H.H. DIVINE PREMBEN SADHVI SUHRAD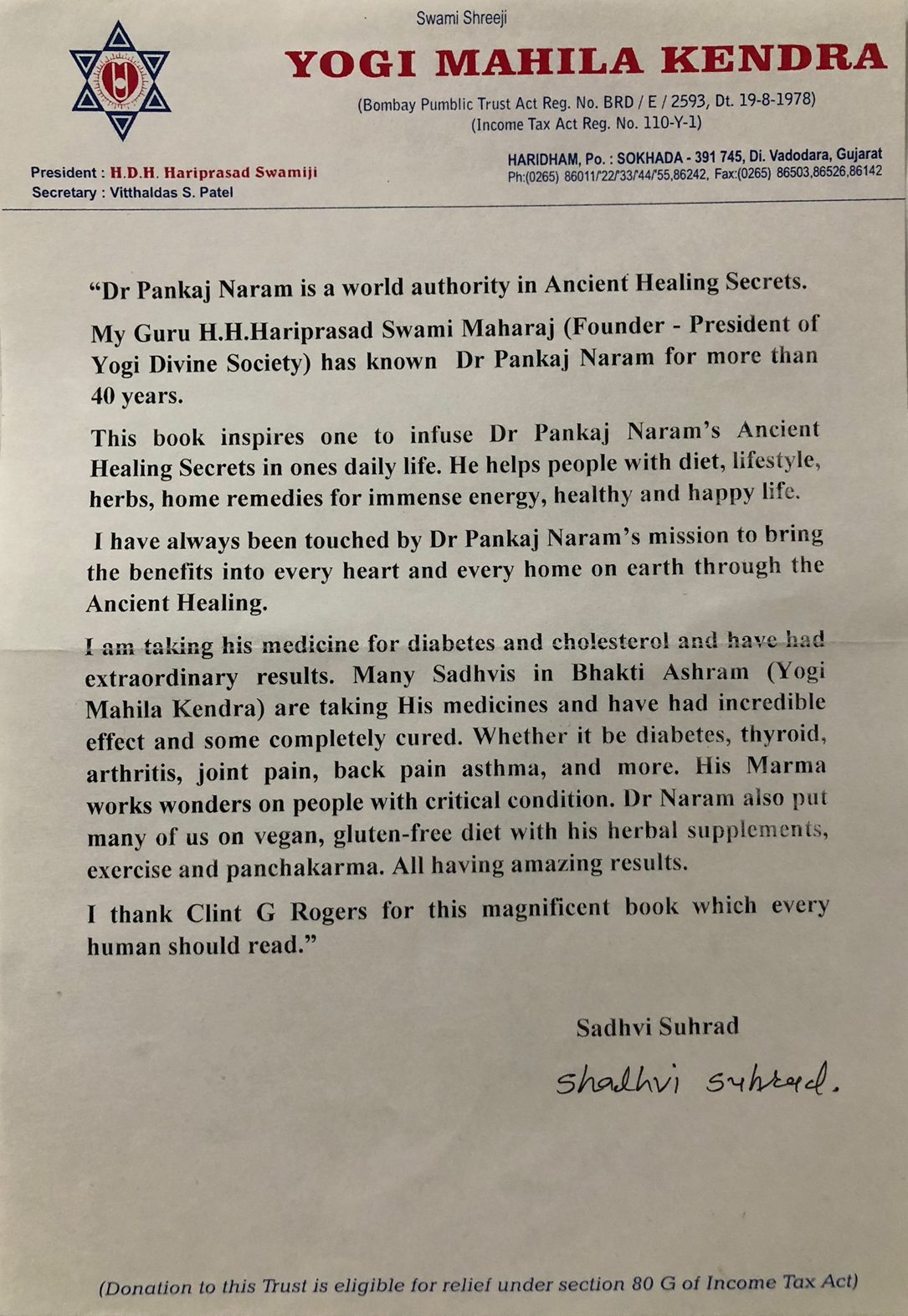 WENDY LUCERO-SCHAYES, OLYMPIAN MEDALIST AND 9-TIME NATIONAL CHAMPION
Wow! This book, Ancient Secrets of a Master Healer, is a game-changer for most people's concept of life and health. Each story has such a life-changing impact.
As I read each page, I kept thinking about how much I want my son and all the people I love to read this. I wondered, what if my son learned the principles in this book while he was young – how much more of the world could open up to him? I want my son to be opened, like Dr. Clint and Dr. Naram learned how to be, so he can discover and fulfill his own dreams.
~ Wendy Lucero-Schayes
NCAA Champion
9-time National Champion
1988 Olympian
World Championships Silver Medalist
DR. LAXMI N. CHATURVEDI, M.D.(U.S.A), D.C.H., D.M.R.D
I came to know about Pankaj Naram through a ZEE TV program that I happened to watch one day. His message was so unique that I became a regular watcher of his show. Dr. Naram was not an ordinary human being rather a divine personality bestowed with the power of healing and alleviating the sufferings of mankind. According to Indian scriptures, such superhuman personalities appear time and again to help humanity when things go wrong. He was an ordinary physician at first but then met a divine guru who imparted his knowledge over 10 years, and that is what Dr. Naram was practicing. This knowledge is unavailable to modern scientists although evidence based medicine nonetheless. Today modern physicians know those diseases but not their remedy. Dr. Naram had provided great hope for these hopeless sufferers.
He preferred to spread that knowledge throughout the world literally so that the entire world could take advantage of it. He went around 20 countries and 60 cities every year not only to treat the diseased but also to train local physicians to spread this knowledge.
His humbleness, kindness and ability to see 80-100 patients a day and having such a rich fund of knowledge that is not readily available, impressed me to consider him nothing less than a divine super human being; one I have only read about in the Scriptures.
He treated patients miraculously! Here are some examples:
1) a young girl with absent or rudimentary uterus (and therefore no menses) developed with his therapy a uterus and was able to bear children after marriage.
2) A child with Hydrocephalous who was treated medically by Dr. Naram, not requiring surgery, and going on to develop as a normal child.
3) Many girls with uterine polyps and severe bleeding, with hemoglobin of 4gm to 7gms or less recovering without surgery going on to become mothers.
4) A 5year old European lady who had undergone menopause seven years prior to meeting a man, getting married, and then wanting to have a child. Dr Naram treated her and she was fortunate enough to become a mother of healthy, brilliant girl at the age of 56.
3) Thousands of young and old couples with infertility becoming parents and enjoying the bliss of parenthood.
It is impossible to list them all. He was a great hope to the sufferers. These miracles happened to others and I am not an exception to that either. My recurrent heart block was cleared up with his oral treatment alone. My younger brother's wife with lung cancer lived for three years more without surgery until she quit the medication.
I have never seen or heard anybody like him in my entire medical career. Undoubtedly, he was God's gift to mankind. The miracles that he performed are not listed in any of the medical literature I know of. Dr Naram was a messenger of God whom He called back too soon.
Dr.L.N.Chaturvedi, M.D.(u.s.a), D.C.H., D.M.R.D